Today is a national day of awareness. We're very excited about the progress being made in Kansas. The Attorney General's office made an announcement today of an expanded task force and plans to toughen laws in Kansas. Read more about it here:
http://blogs.kansas.com/courts/2012/01/11/schmidt-expands-taks-force-to-push-for-stronger-human-trafficking-laws/
The Wichita Eagle has compiled a collection of their coverage of the issue in Wichita as well as the efforts of ICT S.O.S. over the last 10 months. You can view it here: http://www.kansas.com/trafficking/
Another great way to raise awareness is by sporting this awesome necklace: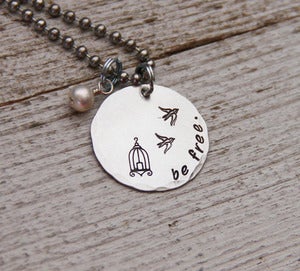 It's a great conversation starter and $10 from the sale of each necklace goes to ICT S.O.S. to support our efforts locally.
If you would like to purchase a necklace, visit The Rusted Chain and Beki will hook you up! http://therustedchain.bigcartel.com/product/be-free-charity-necklace
And- if you would like to order one to be sent to a survivor of trafficking right here in Kansas, you can do so by having the order shipped to:
PO Box 172472
Kansas City, KS 66117
Attn: Kiersten
They have about 25 ladies in their program and I would love to provide each one with this beautiful reminder to "Be Free" of the chains of slavery. I ordered one for myself and one to be sent to Veronica's Voice. Please consider doing this if you are able!