We're excited to kick off a new year and a new semester with a great group of interns. They'll be helping with everything from events to data entry to donations to projects not even dreamed up yet!
Welcome to the team Sara, Rula & Erika- it's going to be a great semester!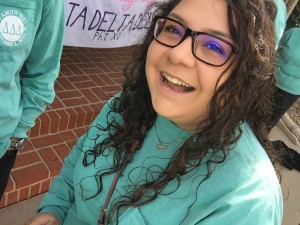 I am Sara Baltazar. I am a senior at Wichita State University working towards my Bachelors degree in Marketing with and emphasis in Real-Estate and a minor in communication. I like to read and spend time with family and friends.
Hello! My name is Rula Jamaleddine and I'm planning on graduating this May of 2016 with a Health Service Management Community Development (HSMCD) degree. I am 21 years old and I am really interested in community and any leadership development. When I first started college,  I was Pre-Med, I actually wanted to be an anesthesiologist ,  but soon after I realized I should probably not do something that I can't even spell without Google and every time a needle comes up in a conversation I go into a fetal position. Long story short, it was definitely not for me so I decided to change my major to hospital administration and loving it so far. One day, I would love to be a CEO of a major hospital or even a huge corporation.  I am working at a preschool because I adore kids and it is probably because I act like a big kid most of the time and that is maybe why I get along with them so well. I also help out at Marcos Cantina, which is our family restaurant during the weekends. Some hobbies I enjoy doing is singing, it's a big passion of mine, I have auditioned for different TV shows. Having grandparents that aren't as fluent in English, I have had to speak with them in Arabic for all my life, so I have a good grasp on the language. I also enjoy watching movies, during my free time you will more than likely find me in a movie theater. I can't wait to take part of this wonderful organization and bring more awareness as well as learn more through ICTSOS.
My name is Erika Rivera, I was born in Wichita Kansas and am currently working towards a Bachelors degree in Health Services Management at Wichita State University. I have worked in the healthcare field since 2008, beginning as a medical assistant and moving towards my current position as an assistant manager of an orthopedic surgeon's office. My future career goals are to become a healthcare director at either a local physicians office or hospital. However, gaining experience wherever I can help others, improve lives, and better the community will be my ultimate goal.