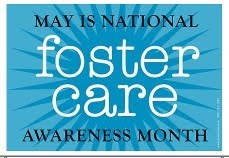 I have seen statistics stating that as high as 80% of trafficked youth have been in the child welfare system. To me, this says one thing: we need to do a better job of supporting foster agencies, foster parents and foster youth.
Children who have a sense of community, family and support are much less vulnerable to abusers and traffickers. So, how do we create that safety net? Here's a list of ideas:
Be a foster parent!
Be a respite provider. You don't have to be a full-time foster family. You can also provide occasional respite or emergency care.
Serve as a foster care ambassador. (Contact valerie.leon@st-francis.org for info!)
Be a support to a family that you know is fostering. (Provide meals, rides, babysitting)
Throw a "Foster Shower" for new foster parents for items they will need. (Outlet plugs, cabinet locks, smoke detectors, etc)
Send an encouraging note or small gift to a kiddo placed with someone you know.
Call to check in with foster parents and ask how they are doing- let them vent if they need!
Show up to games, concerts, events for fostering families- cheer LOUDLY.
Host a donation drive for a foster agency for duffel bags, snacks, kids' books or other items they need.
Volunteer at an agency's office.
The requirements to foster are fairly simple:
21 or older, married or single
Complete MAPP training
Pass a background check
Have an additional source of income (outside of foster care reimbursement)
Own or rent a suitable residence
Be willing to work as a team member
There are several great agencies to work with in the Wichita area as well:
Saint Francis Community Services